Applications & Technology
Desktop Underwriter Validation Service
Transform your company's workflow
Leverage the power of Desktop Underwriter® (DU®) and data validation to receive Day 1 Certainty®. Start fast-tracking loans today. 
With the DU validation service you can:
Process loans faster and reduce the cycle time from application to close. This technology advances the work of DU, the most widely used automated underwriting system in the market today. 
Confirm key components needed for Fannie Mae's loan requirements. The streamlined process uses third-party vendor data to validate income, asset, and employment information entered by the lender in DU. 
Receive Day 1 Certainty with relief from representations and warranties on validated components when income, asset and employment information is validated by DU.
Use the DU validation service to save time, and benefit from enhanced loan origination controls, process efficiencies, and a better experience for your borrowers. 
How It Works
Once a lender has contracted with third-party data vendor(s), it can begin using the DU validation service.
Benefits
There are many reasons lenders are using DU validation service.
Better borrower experience: Provides borrowers with a streamlined, efficient process that saves time and reduces paperwork.
Dynamic underwriting: Validates key loan data up front and confirms that the validated component meets Fannie Mae's requirements.
Process efficiencies: Reverification is not required for assets, income, and/or employment validated in DU; execution of the IRS Form 4506-T is not required when all borrower income has been validated; and lenders have lower fraud risk when data is gathered from the source.
Day 1 Certainty: Lender receives certainty regarding income, assets, and employment information validated by DU. With validation, lenders receive freedom from representations and warranties with regard to the accuracy of income and/or asset calculation, borrower employment status, and the integrity of the data from the vendor.
Get Started 
There are a few steps you need to take to get started. 
First, review authorized verification report vendors: Fannie Mae has an open platform for data vendor participation to provide choices for customers. Review the list of available vendors.
Then select and contract with vendor(s) of your choice for income, asset and employment verification: 
For vendors who use a Reference ID: Once contracts are completed, you can start using the DU validation service.
For The Work Number (Equifax) or distributors of its reports: complete the setup form.
Access resources in the Learning Center to learn more about implementing and using the DU validation service at your organization.
Technology Terms & Conditions
The Technology Terms and Conditions previously provided on this page are now located in the new Consolidated Technology Guide. A PDF version of the Guide and other related content is available on the Consolidated Technology Guide page. 
Redefine your loan process.
Discover best practices, learning materials for loan originators and success stories from lenders like you.
Visit Resource Center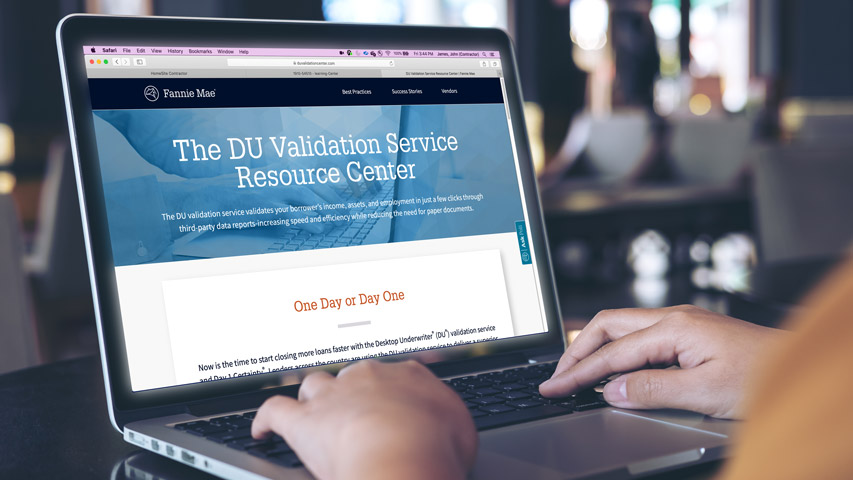 Together, let's help more renters become homeowners
Innovative Desktop Underwriter enhancement can evaluate borrowers' positive rent payment history. Desktop Underwriter® (DU®) now uses asset report data to consider a borrower's 12-month positive rent payment history.