Originating & Underwriting
Uniform Residential Loan Application (Form 1003)
Redesigned to improve the borrower and lender experience
Fannie Mae and Freddie Mac (the GSEs) redesigned the Uniform Residential Loan Application (URLA) (Fannie Mae Form 1003) and created new automated underwriting system (AUS) specifications (Fannie Mae Desktop Underwriter® [DU®] Spec) to help lenders better capture relevant loan application information and support the industry's move to digitize the loan origination process.
The GSEs also created a Uniform Loan Application Dataset (ULAD) to show how Form 1003 is mapped to MISMO® v3.4 data.
Participate in the redesigned Form 1003 Open Production Period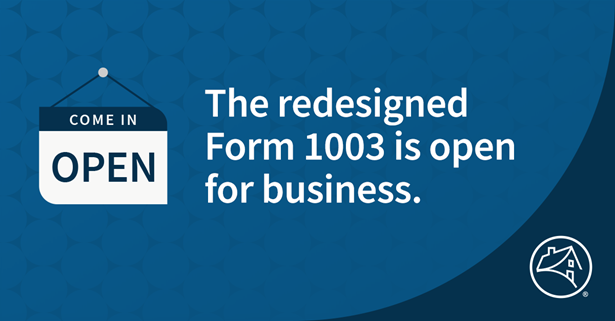 Effective Jan. 1, 2021, everyone who is ready may begin submitting loans to production using the redesigned Form 1003 and updated DU Spec based on MISMO v3.4.
To begin submitting loans in the new format, visit the New DU User Interface (UI) webpage.
For technical questions or assistance during implementation, contact the Technology Support Center.
The deadline for switching to the redesigned Form 1003 is March 1, 2021. Until then, you may continue to submit loans using the legacy format to classic DU UI. The new DU UI will only accept the redesigned Form 1003.