Originating & Underwriting
Uniform Residential Loan Application (Form 1003)
Redesigned to improve the borrower and lender experience
Fannie Mae and Freddie Mac (the GSEs) redesigned the Uniform Residential Loan Application (URLA) (Fannie Mae Form 1003) and created new automated underwriting system (AUS) specifications (Fannie Mae Desktop Underwriter® [DU®] Spec) to help lenders better capture relevant loan application information and support the industry's move to digitize the loan origination process.
The GSEs also created a Uniform Loan Application Dataset (ULAD) to show how Form 1003 is mapped to MISMO® v3.4 data.
Redesigned Form 1003 now required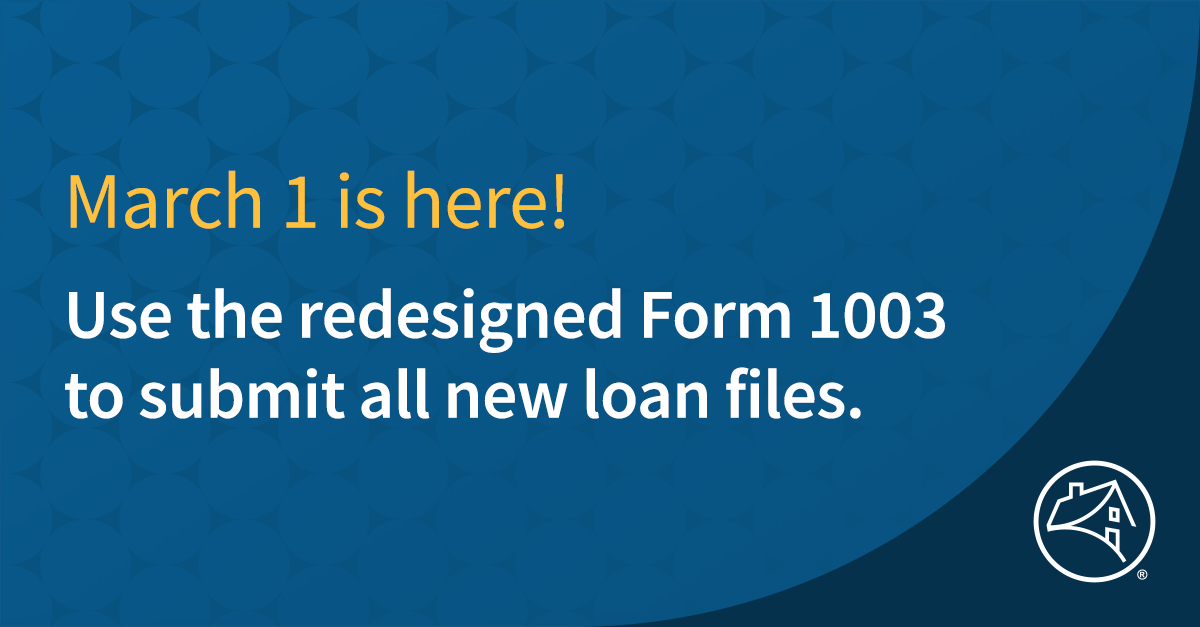 Effective March 1, 2021, lenders and brokers must use the redesigned Form 1003 and DU MISMO v3.4 file for all new loan applications. Applications started prior to March 1 can remain in their original DU format and form version.
To help you get started, check out our Quick Guide  for answers to common questions about accessing DU to submit loans in the new format, error messages, implementation timeline details, and more. This resource will be updated periodically, so if you have questions in the future, be sure to check back to see if your question has been added.
Note: The Form 1003 version and DU file format must match. Lenders should continue to re-submit each loan casefile in the format in which is it was originally submitted. 
Loans started in legacy formats prior to March 1, but not submitted by that date, may be submitted to DU in the legacy format (and use the legacy Form 1003) through April 30, 2021. DU will start returning an "Out of Scope" recommendation on conventional loans or "Error" recommendation on FHA or VA loans using the legacy Form 1003 and DU file formats with a Casefile Create Date on or after May 1, 2021. See the February 16 announcement for more information.
Redesigned Form 1003
Effective January 1, 2021, all lenders and mortgage brokers may begin using the redesigned Form 1003. All new loans started on or after March 1, 2021, must use the new format.
Non-English Translations
Guidance
* Component required for all loan applications. All other components are to be used as needed.