Originating & Underwriting
HomeStyle Renovation
Unlock options for your borrowers
A HomeStyle® Renovation mortgage gives you more flexibility to meet your borrowers' needs, the potential to increase purchase and refinance loan production and save repair-contingent deals.
Why choose Homestyle Renovation?
Homeowners are renovating like never before. With a HomeStyle Renovation loan, they'll have funds for a wide range of renovation projects, from repairs and energy updates to landscaping and luxury upgrades. A HomeStyle Renovation loan can make the difference between a house and a dream home, or help restore an older home to its former glory.
Now you can give your customers the option to renovate and rehab a new or existing home by including financing in their conventional purchase or refinanced home loan. LTV is calculated taking the proposed project into account, giving them more purchasing power and more options to make their home their own.
Simple
With standard pricing and conventional execution, loan funds can be delivered even before the project starts (subject to lender approval).
Flexible
Use on any renovation project, including updating a bathroom, adding a mudroom, landscaping or replacing a roof, up to 97% LTV or 105% CLTV when paired with eligible Community Seconds™ financing.
Affordable
Take the completed value of the project when determining the total loan amount, up to 75% of either the purchase price plus renovation costs or the "as-completed" appraised value, whichever is lower.
For manufactured housing, eligible renovation funds cap at the lesser of $50,000 or 50% of the "as-completed" appraised value.
Competitive
Interest rates are typically lower than a home equity line of credit (HELOC), personal loan or credit cards.
Bundle the benefits
Combine HomeStyle Renovation with other Fannie Mae offerings to give borrowers more benefits:
HomeStyle® Energy: If your borrower is planning on ENERGY STAR® -certified improvements, resiliency, water, or other energy upgrades, then the HomeStyle Renovation loan may be bundled with HomeStyle Energy to qualify for a $500 LLPA credit. 
HomeReady®: Our low down payment mortgage has lower rates and cancellable mortgage insurance (restrictions apply). When combined with HomeStyle Renovation, HomeReady makes financing renovation projects even more affordable.
Accessory Dwelling Units (ADUs): Borrowers can use HomeStyle Renovation to finance the addition of an ADU to their home, providing more space for family or an opportunity for rental income.
Become an approved HomeStyle Renovation lender
Deliver renovation loans prior to project completion by becoming an approved HomeStyle Renovation lender. Get started by completing form 1000A or contact your Fannie Mae customer account team to learn more.
*Delivering loans post-completion does not require special approval.
HomeStyle Renovation Loan Process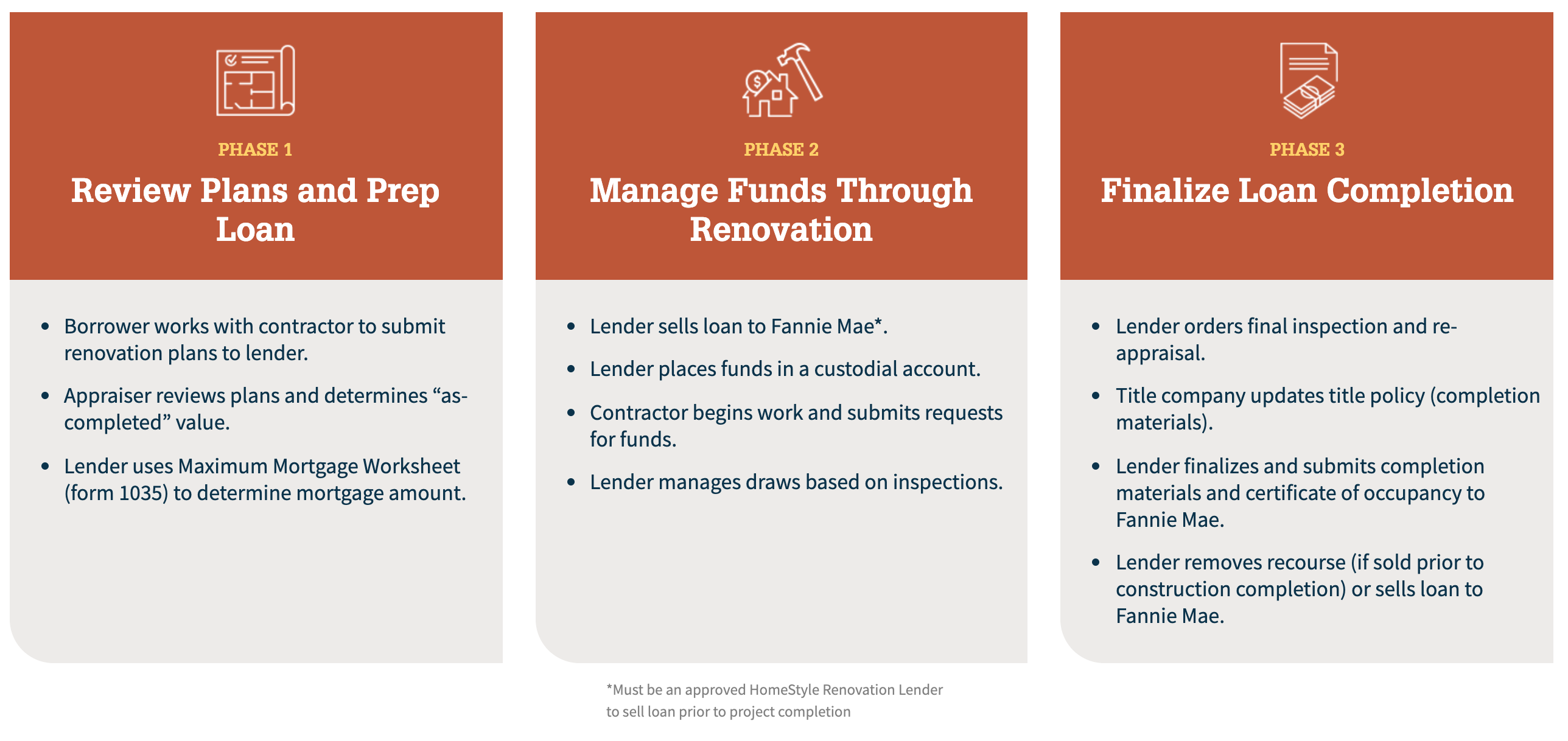 Forms
| Form | Description |
| --- | --- |
| Form 1035 | HomeStyle Renovation "Maximum Mortgage" worksheet |
| Form 1202 | Contractor Profile Report |
| Form 1204 | HomeStyle Renovation consumer tips |
| Form 3730 | Renovation Contract |
| Form 3731 | Renovation Loan Agreement |
| Form 3739 | Lien Waiver |
| Riders and Addenda | A list of model riders and addenda to the security instrument. Model documents relevant to HomeStyle Renovation include Forms 3732 and 3733. |