Applications Programming Interfaces (APIs)
HomeReady APIs
Maximize affordable lending opportunities
Would empowering your team to offer more unique lending products like HomeReady to low-income, credit-worthy potential borrowers be a "game-changer" for your business? Imagine your HomeReady-eligibile borrowers having the opportunity to weigh all their choices from the begining - with your company being the stand-out option. 
 
And what if you could identify these potential borrowers sooner through automation, allowing those conversations to be had as early as the point-of-sale?
Find more potentially eligible loans
If you are still manually identifying borrowers who may be eligible for HomeReady, such as performing manual lookups like area median income (AMI) and guideline reviews, you are likely finding only a small fraction of the potentially eligible loans in your pipeline. This could result in lost customers, fewer offered loans, and potential missed savings for borrowers and you. To determine how many of your loans were potentially eligible for but not submitted as HomeReady, access the Fannie Mae Connect report, "Potential HomeReady Eligible-Not Delivered as HomeReady".
Our AMI Lookup and HomeReady Evaluation API and Potential HomeReady Eligible Casefiles API can help you more easily identify potential HomeReady-eligible opportunities. 
Key benefits for you and your borrowers
Consider how some of these key benefits of our HomeReady APIs could impact conversations with your potential borrowers:
Improve borrower experience
Create a better customer experience by ensuring borrowers are presented with the most cost-effective and competitive mortgage products available to them.
Eliminate delays in processing by identifying HomeReady-eligible loans early in the process, reducing the need to re-submit casefiles to Desktop Underwriter®.
Realize potential cost savings
Ability to waive loan-level price adjustments (LLPAs).
Deliver cost savings in the form of lower interest rates to your potential borrower.
Enhance your business offerings
Ability to offer the right products sooner in the decision-making process.
Fewer overlooked opportunities to place borrowers in loans that are right for them.
Reduce manual workloads
Automated identification saves time and effort in gathering and reconciling data.
Minimize the process of reworking and resubmitting case files if not identified earlier in the process.
Reduction of data errors and misidentification through clear data extraction.
Integrate with ease
Leverage our Quick Start Guide with your in-house tech staff or technology service provider to begin adoption and/or integration into your process.
Support through the whole implementation process, including testing by the Fannie Mae Technology Integration Team.
Scenario: Maria and Alex Buy Their First Home
Take a look at the practical impact integrating the AMI Lookup and HomeReady Evaluation API could make on your daily processes and client interactions through a possible scenario.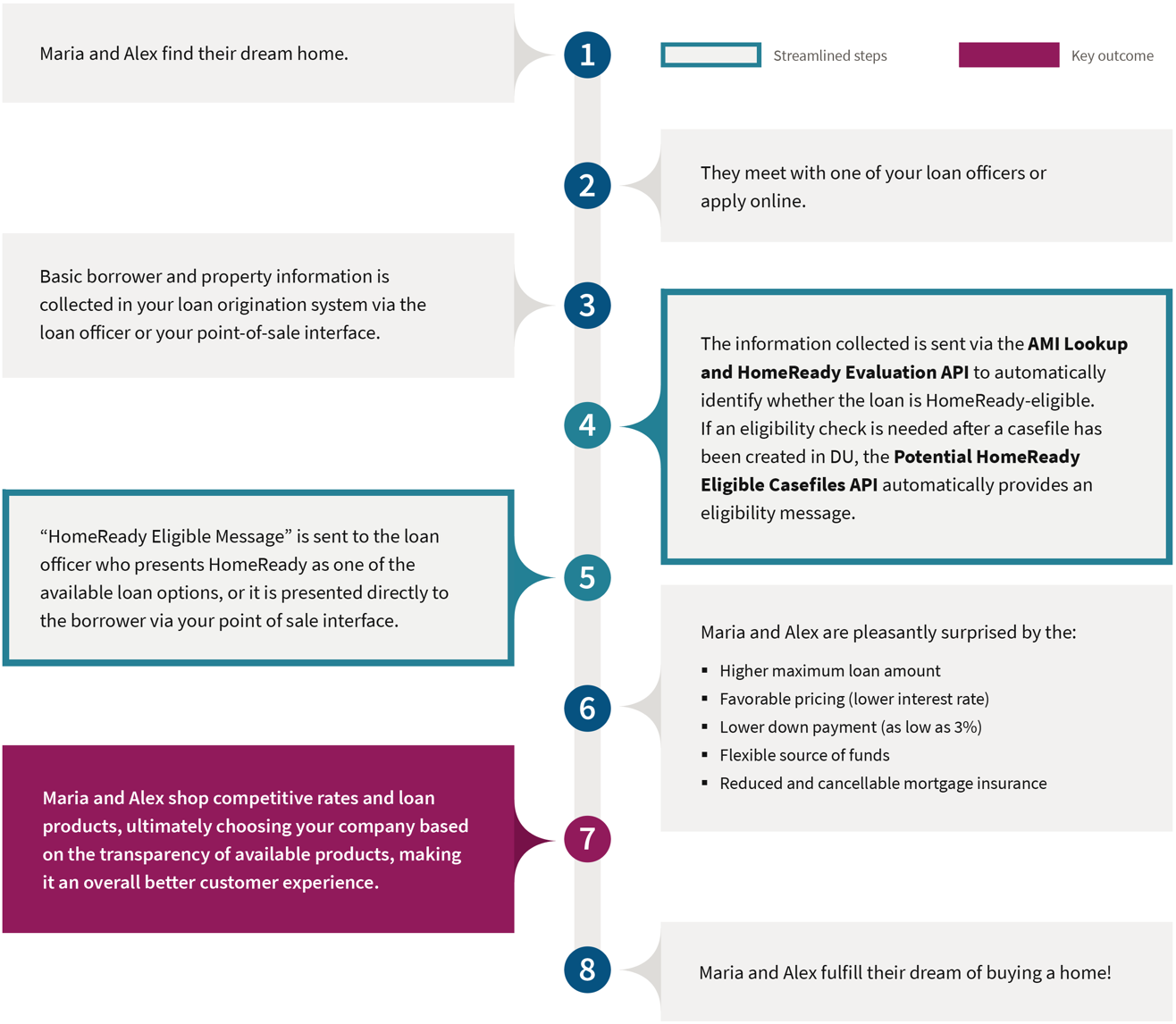 Start maximizing your affordable lending opportunities today
Contact your Sales Engineer or Customer Delivery Team representative to get started.
See the Quick Start Guide for details.