Fostering diversity and opportunities in the appraisal profession
Since its inception in 2018, Fannie Mae has been a partner in the Appraiser Diversity Initiative™ (ADI), designed to attract new entrants to the real estate appraisal field while fostering diversity in the profession.
Appraiser Diversity Initiative™ (ADI)
Appraisals play a vital role in housing finance. ADI was launched to raise awareness of real estate appraisal career options through outreach events and to facilitate opportunities for overcoming barriers to entry in the field. In conjunction with the Appraisal Institute, Freddie Mac, and the National Urban League, Fannie Mae is helping to build appraisal career path awareness. ADI focuses on scholarships, mentoring, and an introduction to job opportunities, using approaches designed to educate, advise, and provide financial assistance to candidates through scholarships.
Find out how you can help ADI's mission.
Our biggest need is for supervisor sponsors and financial donations. Supervisors work with appraiser trainees as they gain their experience hours required to become fully certified in their state. Financial donations allow ADI to provide quality scholarships and benefits to the scholarship winners. Find out how you can help help advance ADI's initiative by contacting us.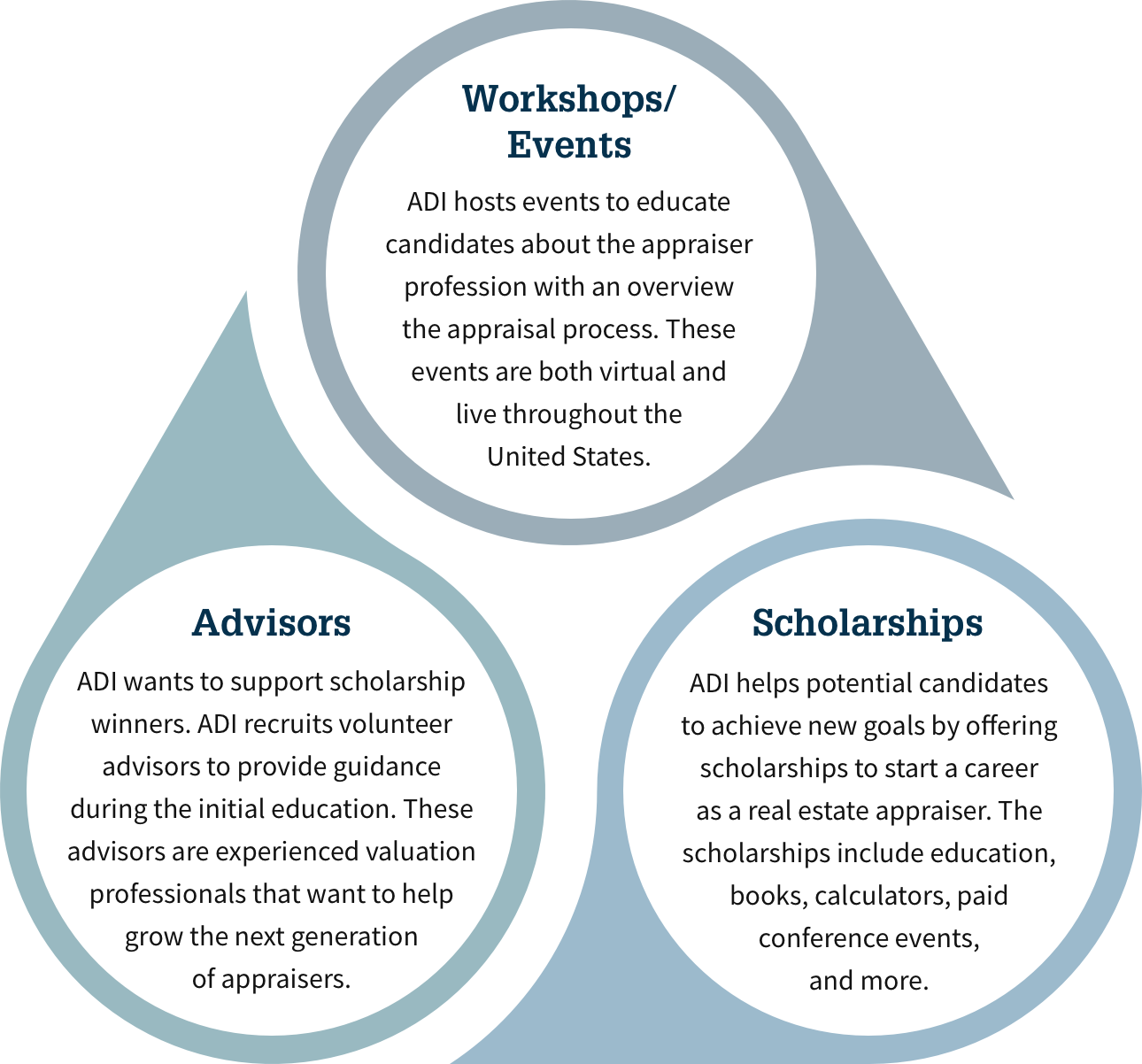 Learn more about the Appraiser Diversity Initiative
Overview
Recognizing the need for diversity in the real estate appraisal profession, ADI offers workshops and events tailored to meet that need. In addition to discussing many aspects of a career as an appraiser, attendees have the opportunity to apply for scholarships to the program.
These events cover topics such as:
The need for diverse real estate appraisers
What an appraiser does
Requirements to become an appraiser
Panel discussions with working appraisers
Attend a Workshop
ADI hosts "How to Become a Real Estate Appraiser" workshops throughout the U.S. and virtually. These workshops inform attendees about the multiple career paths available as well as opportunities to work flexible hours in the field or office. Learn how to become an appraiser, ask questions during discussion time with a panel of local successful appraisers, and hear about scholarship opportunities.
Find a workshop
Overview
ADI offers scholarship opportunities to aspiring appraisers needing financial assistance. To be eligible, potential candidates must attend an ADI workshop and submit the requested application. Scholarships include initial trainee education, books, calculators, paid conference events, and more.
14 students receive scholarships qualifying education courses as part of Appraiser Diversity Initiative
Scholarship winners receive:
Hands-on support throughout the program
Opportunity to learn from an advisor
Monthly check-ins with program representatives
Monthly meetings with peers and colleagues
Access to the ADI email inbox
Numerous opportunities to network and connect with leaders, colleagues, and peers in the real estate appraisal profession
Scholarships help students like Jessica achieve their goals
Overview
Advisors play a vital part in the initiative. They are volunteers who have a background in the real estate appraisal profession and want to help program attendees reach their potential.
The role of an advisor is to:
Provide one-on-one assistance to scholarship winners
Assist with course work
Answer industry-related questions
Help motivated trainees like Marcus be successful as an appraiser
Overview
Programs like ADI rely heavily on sponsors for a variety of support. Sponsorships allow your organization to foster diversity in the appraisal field.
Inquiries on the program can be addressed by visiting www.appraiserinstitute.org/adi.
ADI relies on sponsors for:
Resources for supervisor/advisor support
Workshop sponsorships
Service technology support
Community outreach and engagement
Introduction to job opportunities
Monetary support
ADI Success Story: See how JP Morgan Chase and Flagstar Bank support diversity in the residential appraisal field
JPMorgan Chase and Flagstar Bank put their financial support behind a growing movement to bring more diversity to the real estate appraisal profession with donations of $3 million and $1 million, respectively, to the Appraiser Diversity Initiative.
Appraiser Diversity Intiatives FAQs