River Ranch — High-quality manufactured housing to meet growing demand
Summary
The diverse city of Oroville is a little over an hour north of Sacramento, California. Oroville has ample opportunity for housing and recreational activities. In recent years, strong economic activity in the surrounding regions has sparked an interest in Oroville as an appealing, affordable destination for homeowners. The city reported a population growth of 20% year-over-year in August 20191 and the 2018 Camp Fire that destroyed homes in the nearby town of Paradise has left the city with a substantial need to quickly ramp up the supply of affordable housing.
The project, a partnership between Skyline Champion Corporation and west-coast builder W&R, will consist of 134 MH Advantage®—eligible homes installed and sold in three phases. The subdivision will consist of home sites, walking trails, four commercial lots and associated infrastructure and landscaping improvements in the western portion of the site, and approximately 13.8 acres of open space in the eastern portion of the project site. The first model units may begin installation in late 2021. It is estimated that the newly built MH Advantage-eligible homes will cost nearly $100,000 less than comparable sitebuilt properties in the Oroville area. MH Advantage-eligible homes don't compromise on quality and aesthetics, and this development is further proof that they're also cost-effective.
It is estimated that the newly built MH Advantage-eligible homes will cost nearly $100,000 less than comparable existing site-built properties in the Oroville area.
Development team
W&R has extensive experience building communities of off-site built homes.2
Manufacturer
Skyline Champion Corporation is a leading manufacturer of HUD-code and modular homes with 17% HUD Code market share in 2018.3
Key takeaways
This is the first large-scale real estate project leveraging the new line of Genesis Homes, an MH Advantage-eligible line of homes created by Skyline Champion. To ensure the project was completed in a way that was comfortable for all stakeholders while also ensuring a thoughtful branding and marketing strategy, Skyline Champion enlisted the expertise of Vanguard National Builder Group. To create a "plug-and-play" sales model, the brand strategy group worked to understand the prevailing economics of the Oroville region, including consumer sentiment and behavior. The group tested the model in Oroville and expects to quickly scale to opportunities in other markets across the country. Homes in the Oroville subdivision will be available for sale across a variety of platforms, including online and on-site.
Another key takeaway was the interest and willingness of the manufacturer and developer to connect with mortgage lenders in the area well in advance of the completion of the construction project. The goal was to understand their ability to provide mortgage financing for the homes in question. Depending on the sales process for a given project, a lender may need to provide either online or on-site resources and support for prospective borrowers. Understanding the sales strategy and clearly communicating it to lenders can help builders and developers ensure that their prospective customers have access to a wide variety of mortgage financing that meet their needs.
Available models
River Ranch (Oroville, CA)

Community aerial view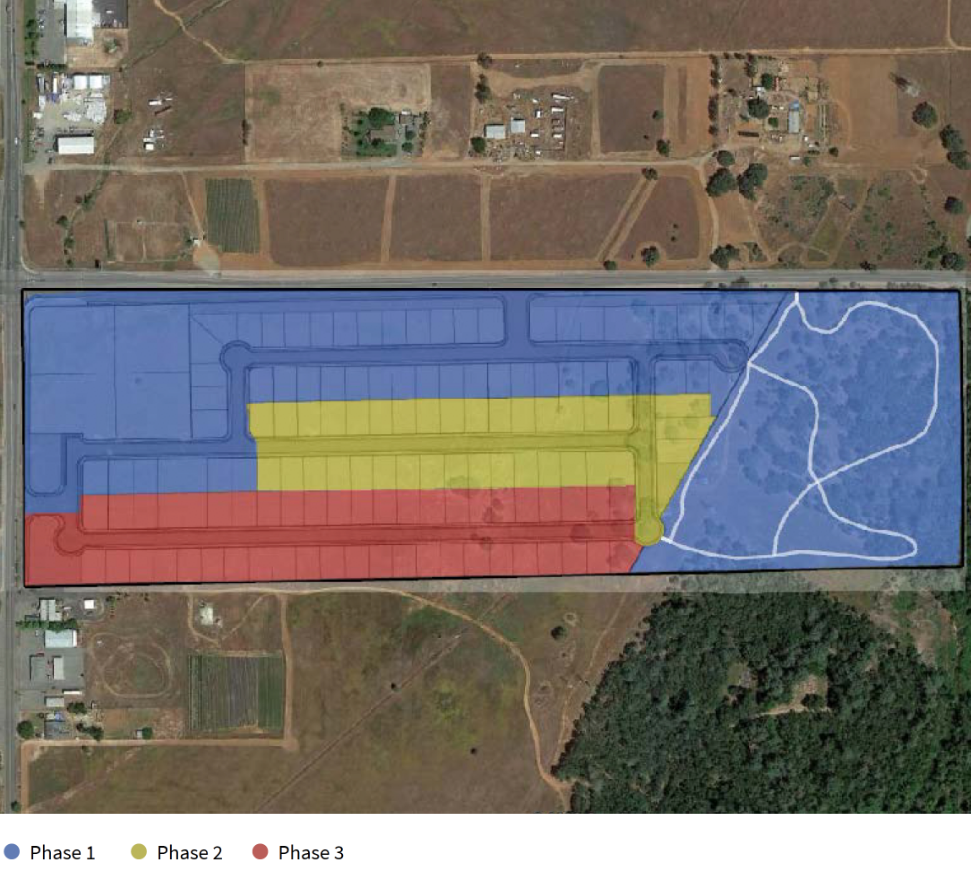 Note: This figure is for informational and discussion purposes only. The areas shown are approximate, but are representative of the project intention.
1 Natalie Hanson, "Oroville could be fastest-growing Northern California city, despite Camp Fire housing crisis," Chico Enterprise-Record, last modified February 19, 2020, https://www.chicoer.com/ 2019/08/11/oroville-could-be-fastest-growing-northern-california-city-despite-camp-fire-housing-crisis/.
2 "Portfolio," W&R Wedgewood, accessed July 6, 2021, https://www.wrhousing.com/portfolio.
3 "Skyline Champion Corporation – Overview," Skyline Champion, accessed July 6, 2021, https://ir.skylinechampion.com/overview/default.aspx.