eMortgage Calculator
Test custom scenarios to learn how eClosings and eMortgages can potentially help boost your business.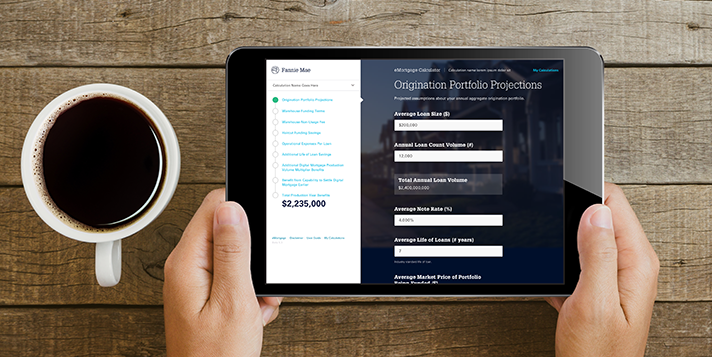 eMortgages can help you save time and money, manage risk, and provide a better borrower experience. The Fannie Mae eMortgage Calculator can help you better understand the potential impact of eMortgages across your business, including:
Operational Expenses
Understand where you could reduce manual touchpoints, increase operational efficiency, and save on custodial storage fees.
Warehouse funding or self-funding details
Learn what shorter warehouse or self-funding periods could mean for your business and cash flow.
Potential to settle earlier
Explore the possibility of settling earlier and potential pricing benefits across the board.
Annual loan volume
Understand how eMortgage can help you potentially increase your loan volume.
Ready to find out what eMortgage can do for you?
The eMortgage Calculator (Beta) is for informational purposes only and is solely intended to aid, assist, and guide a company's employees, management, and contractors in performing their professional duties rather than to replace or override their professional judgment and decision-making. Therefore, any user will exercise independent, professional judgment in using the tool and applying any results it renders. The eMortgage Calculator (Beta) is offered on an as-is basis without warranty, either expressed or implied, and any user on behalf of itself and its company assumes sole responsibility for the achievement of intended results. Any user's and its company's use of the eMortgage Calculator (Beta) will be governed by the laws of the District of Columbia without application of conflict of laws principles, and all disputes related to a user's or company's use of the tool will be heard in the courts located within the District of Columbia.